Dutch firm unveils new design; Americans grab their pitchforks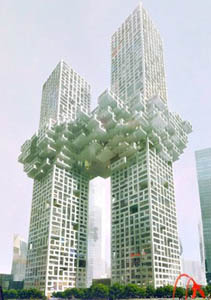 A Dutch architectural firm was forced to apologize for its design of twin luxury apartment buildings last month, after enraged Americans flooded them with death threats. The skyscrapers, planned for construction in South Korea, are dubbed "The Cloud" by their Dutch designers. The irregular structure that joins the two towers together at their midsections is meant to evoke visions of a wispy cloud, lazily floating by.
Instead, hoards of infuriated Americans saw a terrifying tribute to the horrors of 9/11. Naturally.
Not for nothing, but I doubt an established global architectural firm set out to design a monument to al-Qaeda. That isn't exactly a strategy that is going to earn them accolades or grow their business. Just sayin'.
Instead, it probably makes a lot more sense to assume that the intentions of MVRDV (the designer) were completely innocent, and that any perceived parallel to 9/11 imagery is simply born out of the American instinct to blow everything out of proportion.
Besides, MVRDV has already apologized for any hurt feelings on their Facebook page, stating:
MVRDV regrets deeply any connotations The Cloud projects evokes regarding 9/11, it was not our intention. 

The Cloud was designed based on parameters such as sunlight, outside spaces, living quality for inhabitants and the city. It is one of many projects in which MVRDV experiments with a raised city level to reinvent the often solitary typology of the skyscraper. It was not our intention to create an image resembling the attacks nor did we see the resemblance during the design process. We sincerely apologize to anyone whose feelings we have hurt, the design was not meant to provoke this.
Once you get past the exploding towers look, it's actually a pretty cool design.