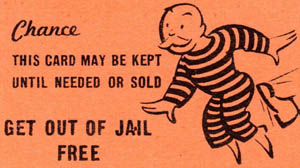 Mississippi Governor Haley Barbour pardoned four convicted murderers last Friday, freeing them from life imprisonment sentences. A fifth criminal, serving a sentence for burglary and robbery, was also pardoned.
All of the felons worked at the governor's mansion as trusties while serving their sentences, performing duties such as waiting tables, washing vehicles, and kitchen work. On the pardon orders, Barbour wrote that each criminal "proved to be a diligent and dedicated workman".
This was one of Barbour's final acts in office, as his term as governor is up this week.
It's nice to know that washing a few cars at the governor's mansion is enough to let you off the hook for murder in Mississippi.