Mississippi governor pardons convicted murderers; calls them "dedicated workmen"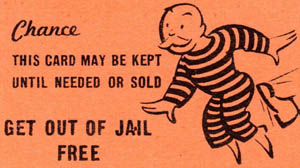 Mississippi Governor Haley Barbour pardoned four convicted murderers last Friday, freeing them from life imprisonment sentences. A fifth criminal, serving a sentence for burglary and robbery, was also pardoned.
All of the felons worked at the governor's mansion as trusties while serving their sentences, performing duties such as waiting tables, washing vehicles, and kitchen work. On the pardon orders, Barbour wrote that each criminal "proved to be a diligent and dedicated workman".
This was one of Barbour's final acts in office, as his term as governor is up this week.
It's nice to know that washing a few cars at the governor's mansion is enough to let you off the hook for murder in Mississippi.
The pardoned felons include:
David Glenn Gatlin, who shot his estranged wife in the head while she held their baby
Anthony McCray, who also killed his wife
Charles Hooker, a teacher who murdered his school's principal
Joseph Ozment, who was convicted of murder, conspiracy & armed robbery
They sound like a bunch of pleasant chaps. I'm sure that the victims' families are glad that these guys are free to rejoin society, solely because some old clown was happy with the work that they performed at his mansion.