America, where whales are safe from illegal… feeding?
A California marine biologist is facing more than 20 years in prison, and over half a million dollars in fines… for feeding a group of whales during a 2005 research trip.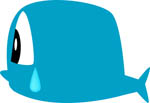 I, for one, am certainly glad that the US Department of Justice and the National Oceanic and Atmospheric Administration could spare the resources to investigate this heinous crime. Illegal whale feeding is an unforgivable offense, and a known gateway to more serious crimes, such as dolphin riding.
In all seriousness, this is completely idiotic.
I won't bother rehashing the details of the report, but it looks like the majority of the charges against the biologist are because she allegedly falsified evidence and lied to investigators. If she had been straight and simply told the truth (assuming she committed the "crime" at all), she would "only" be facing four years in prison and a $400,000 fine. For whale feeding. And this is over a single incident, that occurred in 2005. Keep in mind that no whales were actually harmed, only… fed.
I'm sure that there is a very good reason why feeding whales is illegal, and I'm certainly not condoning the accused biologist's actions, if a crime was indeed knowingly committed.
However, can we take a step back and ignore the letter of the law for a minute, and ask ourselves if we're really serving justice by destroying a person's life over an incident of illegal whale-feeding? There is a reason why the US has the highest incarceration rate in the entire world, and I don't think it is because criminals tend to migrate here…